Accept License Agreement by tapping on Accept button
Tap on Set Pin button to configure your Parental Control PIN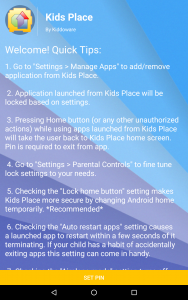 Enter you 4 digits PIN and tap on Update Pin button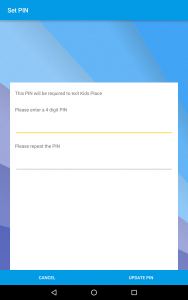 Enter your email address for PIN Recovery purpose and tap on Continue button
Add remove apps from Kids Place
To add remove apps from Kids Place, tap on settings (gear icon on top right corner) and then enter your PIN on PIN prompt to go to settings screen.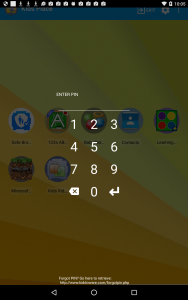 Tap on Manage Apps Option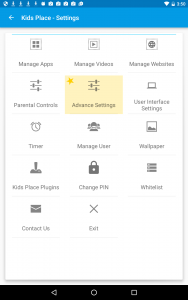 Tap on an app to select/deselect. Selected app (checkbox checked) will show up as approved apps for the kids on Kids Place home screen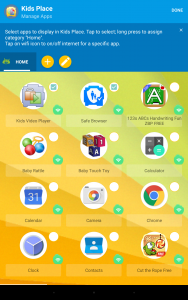 Categorize apps in categories
To categorize apps, first tap on the category you want to assign and category will get highlighted. After that long press selected app(s) icon to assign the selected category.  The background of the selected app will change to category color indicating app has been assigned to that category. Tap on + icon to create  new category. Tap on edit icon or long press category name to edit/delete.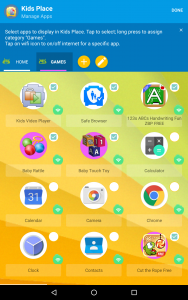 Advance Settings (Premium Features)
Run In Background Mode:App will run in background mode. Kids Place home screen will not be shown.
Note: This setting is recommended when you want to use the app for older kids or employees. Also, great to use on Kindle Devices if you want to give kids access to books or other Amazon content that's accessible from Amazon launcher app only.
Advance Timer
Enable Brute Force PIN Protection: Disable PIN prompt for 5 minutes upon 3 failed PIN entries. Great for blocking user to guess pin by trying out different combinations.
Disable Kids Place Uninstall: Provides additional security by removing uninstall option from app manager.
Lock Device: Locks the device if user tries to disable admin privileges from device settings.
Change Application Title: Customize the application name displayed on main screen top bar.
Ideal for personalization or removing Kids Place name for older kids.
Add new user from Kids Place main screen
To add new user from Kids Place settings screen, tap on Manage Users and in following screen tap on New User button.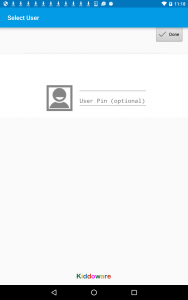 Switch Users
To switch users, from Kids Place settings screen, tap on Manage Users and in following screen tap on the user icon to select.
Add Apps For new users
To select apps from specific user, first go to Manage Users option in Kids Place settings and select the user. After that, please go to manage apps and on top you will see the selected user name for
which you are selecting the apps. For default user, app just shows "Kids Place".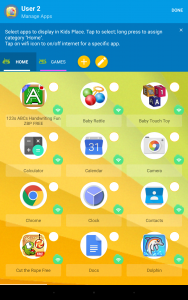 Kids Place Timer
Kids Place Remote Control - Plugin to manage Kids Place from our cloud console