Remote Control User Guide
Kids Place Remote Control is a plugin for the Kids Place Parental Control app and must be installed on the device with Kids Place. Remote Control allows administrators to log into our cloud console at https://kidsplace.kiddoware.com and remotely manage the following Kids Place functions on the user's device the:
Add/Remove apps
Manage app categories
Change other general Kids Place app settings
Manage the Advance Timer
 View reporting data
Track the device location
Create Geo Fences.
*Click on the images in the guide to view them full size. 
With Kids Place Parental Control already installed on the user device that you wish to remotely control, you may now install the Kids Place Remote Control and Monitoring app.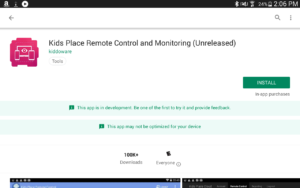 Begin creating an account by singing in with your Google ID.  Alternately, you may create a new account or sign into an existing account.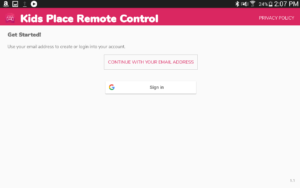 Once you have created your account, you have access to purchase a Remote Control License or subscription at the end of the free trial period. 
On the home screen, you will also be able to view all of the devices you have linked to your account.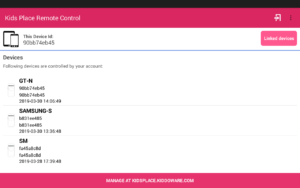 Enable Reporting so Remote Control can track and display app usage activity on your cloud console.
Enable Device Administrator Permissions for critical administrative functions, such remotely locking the device, and other features coming soon (sound alarm, wipe device, change PIN, and more).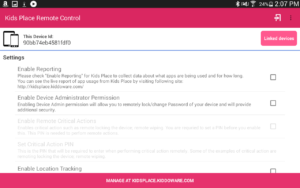 Once the Device Admin permissions are enabled, you will be required to set up a new security PIN to be use within the cloud console.  For added security, this PIN should be a different number than your Kids Place PIN. We recommended to save this PIN in a secure place.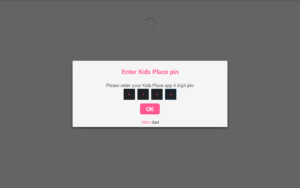 Enable Location Tracking to track the device and have its location displayed on your cloud console. These permissions are also required for Geo Fencing.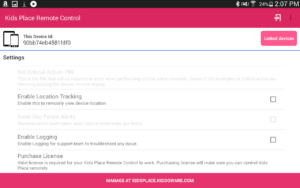 Tap on the Options icon in the upper right hand corner to access the menu.
Update Server pushes data and administrative changes to Kids Place on the user device. 
Update From Server allows administrators to see how the device is currently configured before making changes.
This also comes in handy when testing the system to make sure there is proper communication with the device.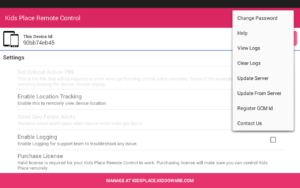 Administrator's Cloud Console Guide
Administrator's Remote Control App
To download the Administrator's App for Remote Control on your phone of other smart device, open your phone's browser and go to kidsplace.kiddoware.com. You will be promoted to login. Use the same email address you used when installing Remote Control on the user's device.  Once you've logged in you will see a popup at the bottom of the screen that says, "Add KPRC Admin to Home Screen". Press this popup and the Admin apps will be automatically downloaded and the icon added to your home screen.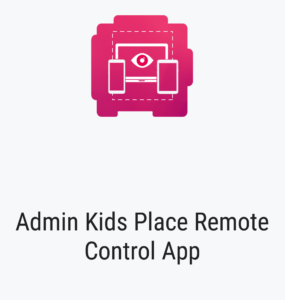 Opening the KPRC Admin app gives you access to the same administrative controls available in the cloud console. You will see which devices are linked to your account. Select the device you wish the review or update.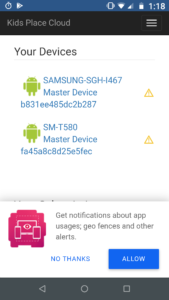 In the Kids Place Remote Control Administrator App you will find the following features and menu options: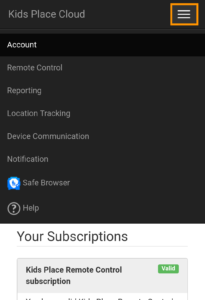 Account: Shows what devices are linked to your account and allows you to select which device you wish to review and control.
Remote Control: Here you can
unregister a device
request the device's current configuration
save and push notifications
send a message or file to the device
install or uninstall an app 
manage Kids Place categories, layouts, approved or blocked apps and settings.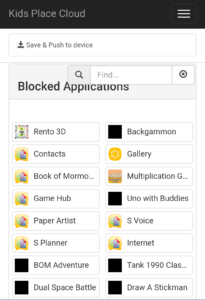 Reporting: View stats on app usage.
Location Tracking: View the location of the device and manage geo fencing settings.
Device Communication: Check details on the last day and time the system synched.
Notifications: Get notifications when the user's device status changes, enable desktop and notifications and more.
Safe Browser: Another powerful Kids Place plugin that allows your child to browse the internet safely.