Kids Place Parental Control Times User Guide
This feature allows you to set a device level time limit.
1. Tap the drop down menu to select a time limit.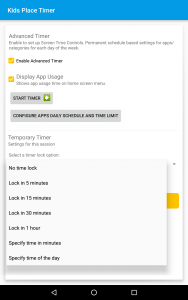 2. Tap on Apply Button to start timer. If you select "Specify time in minutes" or "Specify time of the day" you will next be asked to input your preference.
3. Tap "Apply"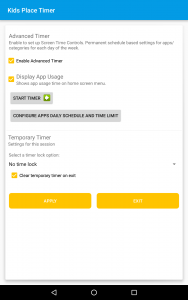 When you return to the home screen you will see a bar that counts down the time available on the device.  When the available time has ended, you will be required to unlock the Timer/device with your user pin.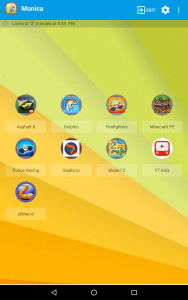 Advanced Timer (Premium Feature)
Advanced Timer allows users to set schedules and daily time limits at a device, app category and app level in Kids Place. Users can also open or block specific times during the day. For example, users can schedule weekday open time for 1 hour during the 3:00 PM to 8:30 PM time block, and on weekends for 3 hours during the 8:00 AM to 10:00 PM time block. 
Begin in Settings/Timer.