To start/configure timer, please go to Kids Place Settings and tap on Timer option.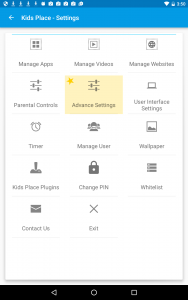 Temporary Timer – A simple timer that allows you to quickly set up a time limit to use the device.. Please expand to see the details.
Advance Timer (Premium Feature).
Advance Timer is a permanent schedule based timer to control screen time. User can set daily limits for Kids Place and any other approved apps in Kids Place. They can also specify during what time slots in a day the apps will not be allowed to use. For example parents can set that Kids Place app can be only used for 4 hours a day and only during 3:00 PM to 9:00 PM time range on weekdays and 8:00 AM to 10:00 PM during weekends. 
Please expand a section to see how to use a specific feature:
Tap to Enable Advanced Timer check box
Tap on Configure Apps Daily Schedule and Time Limit button to set up timer schedule
Tap on calendar icon to set up the schedule
This will display a weekly calendar scheduler for Kids Place
Configure how long your kids can use the tablet tap on Daily Time Limit.
Specify what time during a specific day of the week, Kids Place app cannot be used
Once the timer is configured press device back button to go back to Kids Place timer screen and tap on Start Timer button to start advance timer
The home screen will indicate that Advanced timer is enabled
If Kids Place app gets blocked because total usage time exceeds daily limit or app is blocked during current time slot, following screen will be displayed
Supporting multiple timer profiles.
Assign users to a timer profile
See how much time a user has spent on an app and reset the usage tap on list icon.
Clear Time Usage for a specific app or clear all usage data
Additional Restrictions by Kids Place Categories or Individual Approved Apps Kids Place
Add time limits and block time slots by Kids Place Parental Control Categories
Add time limits and block time slots for other apps
When an app reaches time limit or not allowed to run during a time slot and user tries to use it, they will be redirected to Kids Place home page and message will be displayed at the bottom.