Kids Place Remote Control is a plugin app for Kids Place and need to be installed on same device as Kids Place. This allows Parents to than remotely manage Kids Place configuration and device from our cloud console at https://kidsplace.kiddoware.com
Once the app is installed on Child's device, and an account is created, parents can remotely login to cloud console and perform following functions:
Add/Remove apps to kids place
Manage app categorization
Change some of Kids Place app settings
Manage Kids Place Advance Timer
 Get access to app usages by kids from Reporting tab
Track device location and create Geo Fences.
Client App User Guide
Accept License Agreement by tapping on Accept button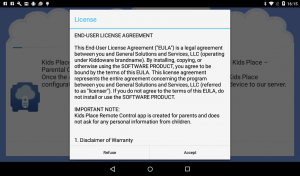 Tap on Create Account for new account or Sign to login in with existing account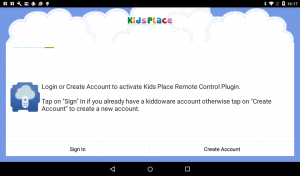 Configure Settings
Check Enable reporting for remote control app to track and display app usage activity on your cloud console.
Check "Enable Location Tracking" to track location of device and display on your cloud console. This is required for Geo Fencing feature to work.
Enable Device Admin for Advance Device Management Features
Enabled Device Admin option to remotely lock the lock device. Checking this will prompt you to enable device admin permission for remote control app.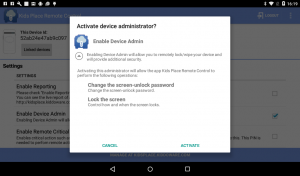 Once Device Admin feature is enabled, you can enable critical functions like Locking the device (and other coming soon features like sound alarm; wipe device; change device PIN. etc). This feature require you to set up a new security PIN (different than Kids Place PIN). Anytime, you perform potentially critical action from your cloud console, you will be required to enter the security PIN that you will set up here. Its highly recommended to save that PIN in a secure place.
Menu Options
Tap on overflow icon from action bar to access menu. You can use "Update Server" option to manually push kids place data to server. This comes in handy for testing set up. Similarly, you can use "Update From Server" option to pull any updates you have done on server to device to test communication.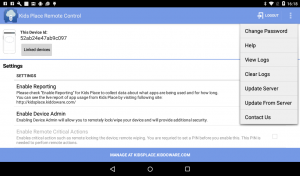 Cloud Console User Guide
Access Kids Place Cloud Console for parents from any browser from any device.
Visit this URL to access Kids Place Cloud Console: https://kidsplace.kiddoware.com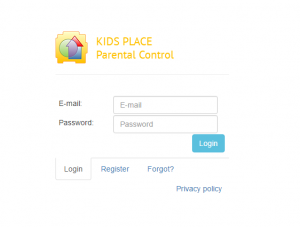 Account View
Remote Control Menu
In this section you can do following:
Tap on "Request Config" button to request Kids Place Configuration data from device to update server (cloud console) for you to view latest data
Tap on Save and Push to device button to make any changes from cloud console push to the device.
Tap Approved Apps Tab add/remove apps from Kids Place.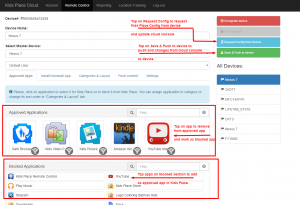 3. Tap on Settings Tab to change Kids Place Settings
4. Tap on Scheduler Tab to manage Kids Place Advance Timer.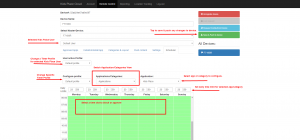 Reporting
Tap on Reporting menu from top bar to view app usage data from device. Please note that you have to enable reporting option from app on the device for this to work.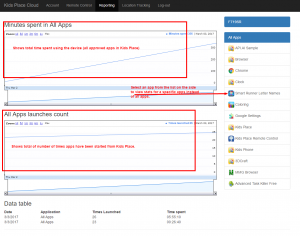 Location Tracking